HKRFU Senior Club Rugby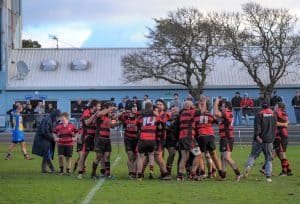 Draws
Premier Club Rugby Draw – HKRFU Premier Club Rugby Draw 2018
Thursday 19th April (7pm) Athletic v Shannon at Playford Park #1
Draw for Saturday 21st April (2:45pm):
Waikanae v COB at Waikanae Park
Rahui v Toa at Otaki Domain
Foxton v Paraparaumu at Easton Park
Senior Reserve – Competition starts on Saturday 28th April 
Results 
All Club Rugby Results from throughout 2018 can be found here on the HKRFU Sporty website 
HKRFU Premier Club Rugby Results – 14th April 2018
At Shannon Domain: Toa 54 (L. Grace 3, M. Tambour, R. Bishop, P. Taulili-Pelesasa, S. Arthur, B. Talivai tries; R. Bishop 7 con) v Shannon 20 (L. O'Connor, B. Huthnance tries; B. Huthnance 2 con, 2 pen).
At Easton Park: Foxton 47 (D. Voullaire, W. Honatapu, A. Katoa, Z. Marshall, J. Ratu, P. Marshall, P. McErlean tries; L. McMahon 5 con, B. Gregory con) v Athletic 29 (M. Easton, D. Ruatoto, T. Udy, N. Payton tries; M. Easton pen, 2 con, S. MacGregor con).
At Levin Domain: COB 20 (S. Jackson, S. Solomona, H. Taiapa tries; S. Solomona con, H. Henare pen) v Paraparaumu 12 (D. Thompson, P. Goldsmith tries; S. McBride con). HT: 5-7.
At Otaki Domain: Waikanae 48 (D. Hallam-Eames 2, J. Smith, X. Pereka, S. Rounds, J. Hinds, T. Parsons tries; E. Reti 5 con, pen) v Rahui 24 (P. Connor-Philips 2, T. Manga tries; P. Connor-Philips 3 con, pen). HT: 29-10.
Standings
HKRFU Club Rugby standings will be updated each Monday following the weekend's games. The Standings can be found here on the HKRFU Sporty Page