TEAM NAMING // Your Horowhenua Kapiti Heartland team to play North Otago at the Levin Domain tomorrow has been named
Congratulations to all players on their selection, especially those playing their first game for Horowhenua Kapiti!
With the game being played under Alert Level 2, there will be no spectators so the game will be live streamed on our Facebook page, the stream will be up around 2:15pm.
All the best team, Go the Mighty Nua!!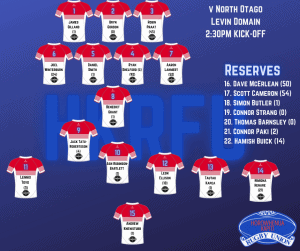 📣
MEDIA
RELEASE: Bunnings Heartland Championship Draw
The Bunnings Warehouse NPC will re-start in Hamilton and the Bunnings Warehouse Heartland Championship season will belatedly kick off in Te Kuiti as provincial rugby resumes next weekend, New Zealand Rugby (NZR) announced today.
NZR has released the revised draw for the Bunnings Warehouse Heartland Championship season, which will kick-off a month late due to COVID-19 restrictions, and a re-jigged schedule for what will be the third round of the Bunnings Warehouse NPC.
The Bunnings Warehouse Heartland Championship draw is on the link attached.
NZR's domestic competitions, which have been on hold since mid-August due to COVID-19, can resume under Alert Level 2, meaning all teams outside of Auckland, which remains at Alert Level 4, can return to play from Friday 17 September.
Steve Lancaster, NZR General Manager Community Rugby was pleased to provide some certainty for fans, players, Provincial Unions and other stakeholders.
"It's an uncertain time for everyone, so to have matches scheduled for next weekend and some exciting Bunnings Warehouse NPC and Heartland Championship rugby to look forward to is a great result. We are committed to playing all three domestic competitions in their entirety, and remain hopeful our teams in Auckland will be in a position to return to play in the coming weeks," Lancaster said.
"It will be particularly pleasing to see the Bunnings Warehouse Heartland Championship kick off. Our rural communities missed out on supporting their teams last season and have been on hold again in 2021. Hopefully rugby can provide some relief during these challenging times."
King Country and Mid Canterbury will get the Bunnings Warehouse Heartland Championship season underway at Rugby Park in Te Kuiti, while Buller, North Otago, Wairarapa Bush, Whanganui and West Coast will also play host as all six Round 1 matches are played on Saturday 18 September. The Meads Cup and Lochore Cup finals are now scheduled for the weekend of 13 November.
Bunnings Heartland Championship Draw:
—
The Horowhenua-Kapiti Heartland management group would like to congratulate the following players who have been selected in the extended squad for the 2021 Bunnings Heartland campaign. Trainings begin on Tuesday July 20th at 6:45pm Playford Park, Levin.
Our preseason campaign will consist of 2 matches. Thereafter a final squad will be announced to play the first competition Heartland game vs Whanganui at Cooks Garden on Saturday 21st August.
Aaron Lahmert Waikanae
Anthony Ackerman COB
Aublix Tawha Paraparaumu
Brock Willis Athletic
Connor Paki Foxton
Dallas Wiki Shannon
Daniel Smith Paraparaumu
Darren Falaniko Paraparaumu
David McErlean Foxton
Hamish Buick Rahui
Himiona Henare COB
Izzy Foai Old Boys University
Jack Tatu-Robertsson Rahui
James Gilland Paraparaumu
James So'oialo Tawa
Joel Winterburn Rahui
Jordon Tupai-Ui COB
Kahn Fotuali'i Freyberg
Keenan Gillson Old Boys University
Kolonio Koto Waikanae
Lennix Tovo COB
Leon Ellison Rahui
Lewis Marshall Rahui
Malua Iakopo Foxton
Morehu Connor-Phillips Rahui
Poleka Levave-Itielu COB
Robin Pratt Foxton
Ryan Shelford ( C ) Paraparaumu
Sean Pape Shannon
Scott Anderson COB
Tautau Kapea Paraparaumu
Thomas Barnsley Paraparaumu
Treden Winterburn Shannon
Willie Paia'aua COB
If there any queries or questions, please contact either our Manager Tom Zimmerman or Assistant Manager Matt Harvey
Kind Regards
Horowhenua – Kapiti Management Team
Chris Wilton – Head Coach 027 390 5789
Aleni Feagaiga – Assistance Coach 021 610 639
Tom Zimmerman – Manager – 029 200 5680
Matt Harvey – Assistant Manger – 029 200 6114
📣 Heartland Draw for 2021!
The Bunnings Warehouse Heartland Championship draw for 2021 has been released today.