Heartland team return to Westpac Stadium
The Horowhenua Kapiti Heartland team will return to Westpac Stadium to play Wairarapa Bush for the third time in as many years on Saturday May 5th when they play as a curtain raiser to the Hurricanes v Lions Super Rugby fixture.
The curtain raiser which kicks off at 5:05pm will be a great opportunity for our Heartland to start building momentum heading into the 2018 season. It will also provide a chance for players who have had strong club seasons so far to further put up their hand for selection.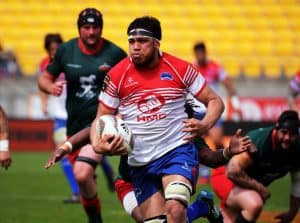 Tyson Maki charges ahead v Wairarapa Bush
Last year's Mitre 10 Heartland Championship fixture between Horowhenua Kapiti and Wairarapa Bush at Westpac Stadium saw Horowhenua Kapiti take the win comfortably 38-12. Horowhenua Kapiti Heartland Coach, Chris Wilton, is thankful for the chance to play at Westpac Stadium. "This is a fantastic opportunity for us to play at a venue like the Cake Tin and great experience for the team. It also gives us an opportunity to get together as a team early to start to build up to our campaign and look at combinations as well as the team culture. We are very grateful to the Hurricanes franchise, Horowhenua Kapiti Rugby Union and Wairarapa Bush Rugby Union for this opportunity."
Horowhenua Kapiti v Wairarapa Bush at Westpac Stadium is another event on the 125th Anniversary calendar for the Horowhenua Kapiti Rugby Union. Horowhenua Kapiti Rugby Union Club Development Officer, Linda Morgan, is pleased to provide another opportunity for our keen supporters to see the team in action. "We have amazing support from our supporters and our wider rugby community so this is such a great opportunity for the Heartland team to curtain raise our favourite Super Rugby team, the Hurricanes."
The Horowhenua Kapiti v Wairarapa Bush fixture will be the first of two games at Westpac Stadium for Horowhenua Kapiti in 2018. The second fixture for the team at Westpac Stadium is a Mitre 10 Heartland Championship competition game v South Canterbury on Sunday 9th September.
Gates open 4:45pm, with the Hurricanes v Lions Super Rugby fixture kicking off at 7:35pm. Ticket prices and supporter's packages will be released in the coming weeks.