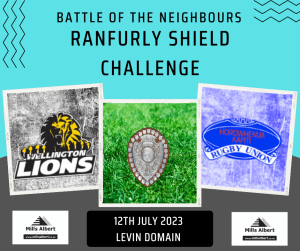 Wellington Lions to defend the Ranfurly Shield in two confirmed preseason fixtures 
Wellington Rugby Football Union has today confirmed Horowhenua-Kapiti and South Canterbury as the two Bunnings Warehouse Heartland Championship Unions to challenge for the Ranfurly Shield during the provincial pre-season.   
As Meads Cup Champions in 2022, South Canterbury automatically earned themselves a challenge for a second consecutive year, while Wellington's provincial neighbours Horowhenua-Kapiti, were selected as the other challenger.   
Shannon Paku, Wellington Rugby Football Union Chief Executive Officer, said both pre-season challenges would be worthy occasions for the famous Log o'Wood.   
"It's fantastic to be taking the Ranfurly Shield to Levin, not only for them to host a Shield Challenge, it's also great to be able to have the opportunity to defend it against our close neighbours.   
"If we are successful in defending the Shield against Horowhenua-Kapiti, we know we'll have a tough task ahead with South Canterbury."   
The Wellington Lions won the Log o' Wood off Hawke's Bay late last season, before successfully defending it a week later against Waikato, which saw them lock it away the summer.    
Horowhenua-Kapiti will get the first chance to challenge for the Shield on Wednesday, July 12th at the Levin Domain.    
Corey Kennett, Chief Executive Officer of Horowhenua-Kapiti Rugby Football Union, said he was thrilled to host a Shield challenge in the district.   
"Horowhenua-Kapiti Rugby Football Union is incredibly thankful to WRFU for granting us a Ranfurly Shield challenge, and the fact that our Challenge is being held in Levin is awesome.  
"The Ranfurly Shield, its history, its mana, and the prestige that it is held in, is still very much alive and strong in the Nua, so the opportunity for our players, management, supporters, and community, to be part of a Ranfurly Shield cis fantastic.   
"Our rugby community has fond memories of a challenge we hosted 30 years ago. That was a massive event, and we think this challenge will be even bigger. We would like to pass on our sincere thanks and gratitude to Dave, Lisa and Paul from Mills-Albert as match day sponsors, for making this event possible," said Kennett.  
Wellington Lions Commercial Partner, Mills Albert Ltd, will be the Matchday Sponsor for this fixture.  
"Being a business located in the Horowhenua-Kapiti area, we are beyond excited to support the Shield challenge in our own community. We can already visualise the attendance of whānau, supporters and players creating a memory that they will never forget," said Lisa Mills-Albert, Corporate Services Manager.  
If the Lions are successful in defending the Shield against Horowhenua-Kapiti, Meads Cup Champions South Canterbury will make the trip to Wellington for a challenge the following Wednesday (July 19th). Last year South Canterbury gave Hawke's Bay a run for their money, going down 38-20.   
Tim Hyde-Smith, Chief Executive Officer of South Canterbury Rugby, said: "South Canterbury Rugby Union are excited once again to be in the position to challenge for one of New Zealand's most historical and prestige sporting memorabilia, the Ranfurly Shield.  
"The team can't wait to head to our nation's Capital to take on the Wellington Lions. Interest is already starting to build and along with the players, our coaching and management support staff, life members, board, supporters club, our rugby clubs and schools, our wider community are looking forward to the match.  
"It is going to be a wonderful experience and we look forward to being hosted by Wellington Rugby Football Union."  
 More details, including kick-off times and ticketing information, will be announced by Wellington Rugby in the coming months.