The Horowhenua Kapiti Rugby Union has gone back to the future with a new jersey celebrating 125 years of 'Nua rugby being launched in Levin today.
The jersey is a commemoration of the earliest known Horowhenua Kapiti rugby jersey which features a thick blue strip alongside a smaller red and white stripe. The jersey also acknowledges the Horowhenua Kapiti Rugby Union's 125th Anniversary in 2018 with small text around the logo along with Fatboyz Bar signing on as a new jersey sponsor on the back. Horowhenua Motor Company (front) and Tui (sleeve) return as jersey sponsors for another year.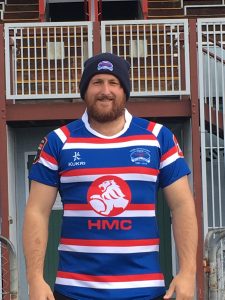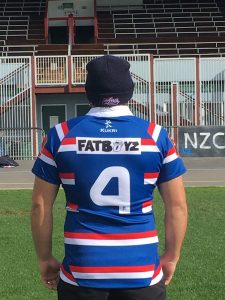 Heartland player, Ryan Shelford, wearing the new jersey
Horowhenua Kapiti Rugby Union Chief Executive Officer, Corey Kennett, was proud to recognise the history behind the jersey. "The Horowhenua Kapiti Rugby Union has a proud history and we're wanting to pay respect to that as much as possible."
"All our supporters in Horowhenua Kapiti are very passionate in general and I feel we have a jersey that represents our history and who's worn it before," Kennett said.
The new 2018 Horowhenua Kapiti Heartland jersey can be purchased (dependent on size availability) through the Horowhenua Kapiti Rugby Union for $100, with other merchandise such as caps, beanies, bucket hats and scarves all available to purchase as well.