Candles blown out on 125 Birthday cake
The Horowhenua Kapiti Rugby Football Union don't do anything in halves, and the packed schedule of events to celebrate turning 125 years old was no different. What an amazing year the Union has had and will be remembered by many for years to come.
The year started out with the Hurricanes in Levin for an open training session on Wednesday 17th January. Many fans, young and old, flocked to the Levin Domain to see some of their favourite players. An appearance from Dane Coles, not to long out of knee surgery that kept him out for most of this year, was the main attraction.
Moving into February, the annual Te-Tini-a-Maui Maori rugby tournament was held at Playford Park in Levin for the first time in over a decade. The Horowhenua Kapiti Maori Rugby Board and organising committee led by Andre Baker, Irene Eruera-Taiapa and John Cribb along with Rugby Development Officer, Ryan Shelford, produced a fantastic event that saw three grades in action with some of the best Maori rugby players in the central region.
The Hurricanes returned to Levin on 26th April, this time with the Hurricanes Development team playing against Japan A at the Levin Domain. Scott Cameron, Aaron Lahmert, Ryan Shelford and Willie Paia'aua were all selected to play in the Hurricanes Development team. In a fastpaced game, it proved to be the Ihaia West show, turning on a performance that saw him elevated back in to the Hurricanes match-day team. The Hurricanes Development side came out on top with a match-winning try to West, but the standard of rugby for the crowd of around 1500 was exceptional.
The Horowhenua Kapiti Heartland team begun their pre-season on May 5th, taking on Wairarapa Bush at Westpac Stadium. Our Horowhenua Kapiti team retained the PGG Wrightson Cup in the Hurricanes v Lions Super Rugby curtain-raiser. This was the first of five pre-season games for our Heartland team with the next game being on Queen's Birthday weekend against a Wellington Lions XV. The Wellington Lions XV game gave the Horowhenua Kapiti Heartland Coach, Chris Wilton, a great opportunity to see some players in action at a representative level.
Another thrilling season of club rugby took place this year. A resurgent Toa Premiers proved to be the dominant team in the Premier competition, returning strong with a Shannon 7's title, winning the Nash Cup, winning the Ramsbottom Cup and taking out the Kapinua Foxton 10's. Surprise package Rahui made the Premier final for the first time since winning the Ramsbottom Cup in 2011. Levin College Old Boys made it back-to-back Bill Muir Cup Senior Reserve victories, beating Foxton Senior Reserves in the final.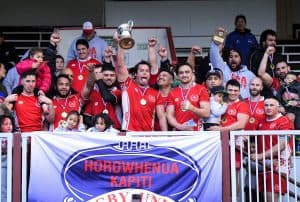 With the help of rugby historian, Clive Akers, retrospective first-class player numbering was introduced for all 1346 Horowhenua Kapiti first-class players. This proved hugely popular and was incorporated in to the first-class player's tie that was introduced to celebrate playing for Horowhenua Kapiti.
The Horowhenua Kapiti Rugby Union went back to the future with their 2018 Heartland jersey, celebrating 125 years of 'Nua rugby. The jersey is a commemoration of the earliest known Horowhenua Kapiti rugby jersey which features a thick blue strip alongside a smaller red and white stripe. The jersey also acknowledged the Horowhenua Kapiti Rugby Union's 125th Anniversary in 2018 with small text around the logo along with Fatboyz Bar signing on as a new jersey sponsor on the back. Horowhenua Motor Company (front) and Tui (sleeve) returned as jersey sponsors for another year.
The representative rugby season kicked off in style with the Horowhenua Kapiti U20's going undefeated and winning the Hurricanes Heartland U20 competition. This was the first time since 2009 that the Horowhenua Kapiti U20's had won the competition and showed their dominance by having eight players selected in the Hurricanes Heartland U20 competition. Moses Pearce, Lei Katoa, Sean Pape, Jordan Tupai-Ui, John Lomu, Treden Winterburn, Xavier Pereka and Poleka Itielu were all named in this side. Sean Pape was deservedly named player of the Hurricanes Heartland U20 tournament, leading to selection in the NZ Heartland U19's alongside Moses Pearce, Connor Paki, Xavier Pereka and Head Coach, Aleni Feagaiga. The 'Nua on Tour' was back in 2018 as our Horowhenua Kapiti Heartland team played Mitre 10 Heartland Championship games against Mid Canterbury in Foxton and King Country in Paraparaumu. Both games were well-attended and well-hosted by the Foxton Rugby Football Club and the Paraparaumu Rugby Football Club.
The Hohepa (Harry) Jacob Community Rugby Centre was opened in September. The new building, located at Playford Park, was opened in front of Jacob's whanau alongside Horowhenua Kapiti Rugby Football Union Board of Directors and Rugby Committee. The naming of the building is dedicated to Hohepa (Harry) Jacob following his service and contribution to rugby in Horowhenua Kapiti. The Hohepa (Harry) Jacob Community Rugby Centre will be used as a development centre offfield, being able to facilitate a meeting space for coach, player, personal and professional development opportunities for our rugby community. Of note, the building is the Horowhenua Kapiti Rugby Football Union's first capital development since the building of the Levin Domain grandstand in 1961.
125 Years of rugby in Horowhenua Kapiti was celebrated through a new book, Continuing in Jacob's Shadow. The title is in reference to the centennial book, In Jacob's Shadow, which features heavily former Horowhenua captain and All Black, Hohepa (Harry) Jacob. "We're extremely thankful to Clive Akers for the work he has put in to recognising and celebrating 125 years of rugby in Horowhenua Kapiti," said Kennett. "As Clive wrote the centennial book, In Jacob's Shadow, it's great that we're able to continue the link in to Continuing in Jacob's Shadow. We're very proud to have this book title linked to one of our most illustrious players, Hohepa (Harry) Jacob. We hope our rugby community enjoy this book."
Friday 21st September saw a Black-Tie anniversary dinner held at the Memorial Hall in Levin. Catered by one of the top New Zealand caterers, Ruth Pretty Catering, the evening was one to remember with interviews by Bevan (Alfie) Sanson with current All Black and Black Fern, Dane Coles and Selica Winiata. "We're very thankful to Dane and Selica for taking time out of their busy schedules to be at this event. Both Dane and Selica have strong links to clubs in Horowhenua Kapiti, Dane being a Paraparaumu RFC junior and Selica an Athletic RFC junior," Kennett said.
An HKRFU Old Timers Day was held on Saturday 22nd September to recognise all former players, coaches, referees, volunteers and administrators who have been a part of Horowhenua Kapiti rugby. The main attraction for the Old Timers Day was seeing the Horowhenua Kapiti Heartland team grind out a win against neighbours Wairarapa Bush, 37-21. Horowhenua Kapiti Heartland Coach, Chris Wilton, was happy with the win which saw the team retain the PGG Wrightson Challenge Cup and the Bruce Steel Rugby Cup. "It's very important for everybody in our union and the win is good for our community," Wilton said.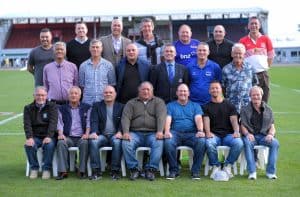 The finale of the weekend was the reunion of the Horowhenua 1993 National Third Division championship winning side. The reunion, 25 years on from their win, saw players and team management travel from overseas to be in attendance. A good chunk of the '93 squad were able to get along to one, if not all, of the events of the weekend, which included a Sunday lunch at Fatboyz Bar in Levin, who are also an HKRFU sponsor.
Before 2018's Lochore Cup success, the 1993 side were the only team from Horowhenua Kapiti to win a championship in first-class rugby. For the first time since 1993, the Horowhenua Kapiti Heartland team won a championship. The Lochore Cup victory has come in the year of the Horowhenua Kapiti Rugby Football Union's 125th Anniversary, ironically 25 years after their last title in their centennial year of 1993. Wairarapa Bush showed why they deserved to be in the final and were every bit as tough as many had predicted. Horowhenua Kapiti had early momentum with the wind at their backs as James So'oialo plugged the corners and chipped away at the scoreboard. Openside flanker Aaron Lahmert was a standout as he pilfered ball, made some strong charges and powered over for a first half try. A dominant scrum, led by NZ Heartland XV representative Scott Cameron, put Wairarapa Bush under pressure at times before reserve hooker David McErlean crashed over with seven minutes to go to put the home side three points ahead. Horowhenua Kapiti held off a late Wairarapa Bush surge to win the Lochore Cup, 2623.
Aaron Lahmert, Scott Cameron, Willie Paia'aua and Mark Rutene (Assistant Coach) were all named in the New Zealand Heartland XV team.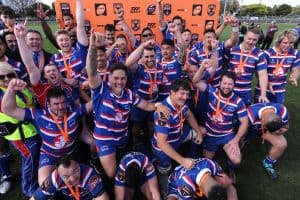 October saw the Southern North Island Primary Schools Tournament hosted at the Otaki Domain. The tournament, so ably co-ordinated by Ged Eller, was won by a very good Hutt Valley team. Horowhenua Kapiti finished third and Horowhenua Kapiti coach, Slade Sturmey, received the Paul Wehipeihana Memorial Cup for the best and fairest coach at the tournament.
At the annual HKRFU Prizegiving, Aaron Lahmert picked up the Heartland Player of the Year award after a fantastic season, while hooker Dean Ropata and outside back Himiona Henare picked up the most improved and most promising player awards respectively. Heartland Head Coach, Chris Wilton, was named representative coach of the year and the Heartland team was named representative team of the year.
As the 125 Year birthday celebrations come to an end, the Horowhenua Kapiti Rugby Football Union would like to acknowledge and thank the Horowhenua Kapiti rugby community for being a part of the celebratory year. Bring on 2019!